Registration Information
Fall registration begins in February but children will be accepted any time an opening exists.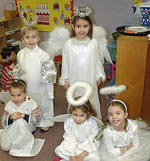 Students should meet the following age requirements:
Caterpillars - 2 as of September 30
Little Sprouts - 3 as of September 30
Shouting Stars - 4 as of September 30
Busy Bees - 5 as of September 30
(exceptions only with Director-Teacher approval)
Child needs to know proper toilet procedure.
A completed registration form and payment of a non-refundable $50.00 registration fee is necessary.
Health and Emergency forms must be received.
---
Required Forms
Click here for a registration brochure.
Click here for a student information and emergency contact form.
Click here for a Health Assessment form to be completed by the child's Physician.
---
Tuition
Tuition is divided into 9 equal payments and is due each month starting September 1st through May 1st.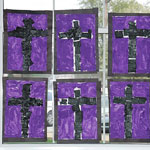 Caterpillars - $990.00/year, $110.00/month
Little Sprouts - $990.00/year, $110.00/month
Shooting Stars - $1215.00/year, $135.00/month
Busy Bees - $1485.00/year, $165.00/month
If two siblings attend, the older child pays full tuition, the younger sibling receives $25 off tuition.
Checks should be made out to "St. David's Preschool," accompanied by coupon, and deposited in school tuition box or mailed to the school.
Please call our preschool at 724-413-0490 with any questions.